Robert F. Kennedy Funeral Train — The People's View
2018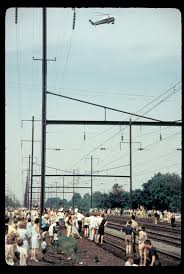 San Francisco (MoMA)
New York (ICP)
Rotterdam (Dutch photo Museum)
On June 8, 1968, amidst a year wracked by division and violence, the casket of assassinated Senator and presidential candidate Robert F. Kennedy was transported on a funeral train from New York City to Washington, D.C. Hundreds of thousands of people united along the tracks in a spontaneous expression of grief.
'Robert F. Kennedy Funeral Train-The People's View' presents a cinematographic reflection on this historic train journey from the people's perspective. Over the last four years, Rein Jelle Terpstra collected the mourners' photographs, films, and accounts of that muggy summer day, presenting a counterview to the famous series by photojournalist Paul Fusco, who photographed the crowds from aboard the funeral train.
This film consists of photographs, home movies, and an original sound recording of a high school band playing along the tracks that day. It also contains the accounts of witnesses to the funeral train. By linking them together in the spirit of the people who lined the tracks, this film aims to add a modest new chapter to the American collective memory.
Director: Rein Jelle Terpstra
Sound design: Jeroen Goeijers