Nelson Carrilho, I'm a black sculptor
2020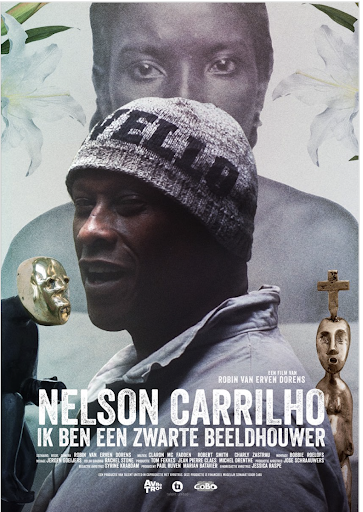 The documentary "I am a black sculptor" is a cinematic quest for the imagination and inspiration of the Amsterdam artist Nelson Carrilho who expresses his African origins with his bronze sculptures.
Personal portrait
In this time of polarization, Carrilho feels the pain of the colonial past and transforms it into monuments that connect society. Filmmaker Robin van Erven Dorens travels with Carrilho to his native soil on Curaçao, to southern Italy, where he wants to erect a monument to refugees and films him at work in his studio in the Jordaan in Amsterdam.
The sculptor and the filmmaker are neighbors and friends. As a result, the film has become a personal portrait that comes close to the essence of Carrilho's work. His inspiration comes primarily from Africa, from where some of his ancestors were kidnapped to work as slaves on the plantations in the Caribbean. On the other hand, Carrilho is trained in the classical European sculpture tradition and attaches great importance to craftsmanship: knowledge of materials, anatomy. In this way he is able to give his images the inspiration that he has in mind and which for him make the difference between a good and a bad image.
Gospel, jazz and African music
Music plays an important role in the movie. Carrilho is strongly influenced by gospel, jazz and African music; music that gives space and allows emptiness. For this film a special soundtrack has been made with music that plays with that emptiness and thus gives substance to the enchantment of Carrilho's work in its own way.
Inequality in the world
In the film, for instance, seeming contradictions are constantly discussed that define Carrilho's personality and make him such a fascinating artist. The discrimination he experienced in his youth, racist violence, the growing social inequality in the world, the inhumane treatment of refugees; they are themes that lead him to poetic thoughts and stimulate new ideas. That poetry continues to surface in the film, whether in his studio, on the beaches of southern Italy or in the oil refinery that was once the economic heart of Curaçao.
Director: Robin van Erven Dorens
Sound design: Jeroen Goeijers
Producer: Talented United
Broadcaster: AVROTROS
Genre: Documentary